---
Neb ... look awesome - what makes me think you've been practising for Masterclass #2
---
Master

Posts: 2833
Joined: Tue Nov 06, 2007 5:37 pm
Location: Brisbane, QUeensland
Nev , you have been busy, very nice, but you should have hidden them til AFTER M/C #2......now we know where the bar is set at....looks like we have to aim a little higher
Brad
I know what I know, the rest is simply details
acta non verba
---
---
Guru

Posts: 811
Joined: Thu Jan 15, 2009 7:46 pm
Neb...love the scollops in the bottom lure. Where did you get that idea from ?.....Great work
Rellik-Doc-Rob...

The Harder I work, the luckier I get...
---
---
Rellik-doc-rob wrote:Neb...love the scollops in the bottom lure. Where did you get that idea from ?.....Great work
Must have seen a great lure maker do that sometime and thought it would l;ook good on mine.
Rupe wrote:nice work neb...some fo them look like a hybrid of a koolabung & a warlock
Can't go wrong when you put the best into your lures...Nev
---
@ neb
If I said ,that these were looking like crap , ........I'd surely be lying
!
Great bunch
, .......nice paint patterns
, ....seems to me , that you're bound to become yet another rattle can artist
.
greetz , diemai
Hurts so bad living in a loony bin !
---
Caught up with Nev a couple of weeks back so thought I would show a couple of his creations that I took a fancy to;
Very interesting design on these in my favourite froggy colours
And a couple of Jitterbug style lures;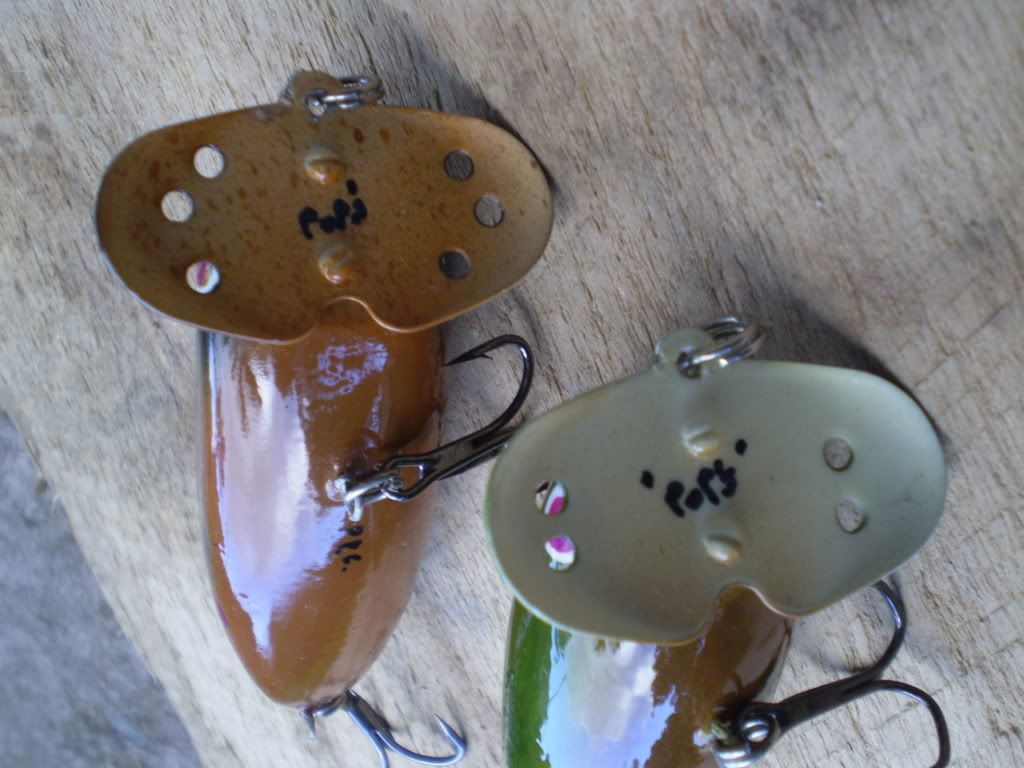 Nice work
MXB
IF YOU ARE FEELING DOWN JUST PULL OUT YOUR FAVOURITE LURE AND DREAM OF BETTER TIMES
---
Hmm nice, the top one looks similar to some Danny's that I am making only in reverse.

Tincan
You have your way. I have my way. As for the right way, the correct way, and the only way, it does not exist.
---